Day 1 Thursday, June 8
8:30 pm Resting Place: observing the cemetery
Sarah Friedland and Esy Casey
Location: Somers Room, Tang Museum
A screening of work in progress film Here After, a feature documentary by Sarah Friedland and Esy Casey, looks deeply into three stories of three cemeteries in the U. S. told through the wit and wisdom of those who memorialize the loved ones of others. Jim Hutslar is the caretaker of Miami's Neptune Memorial Reef, the Atlantis of cremains. Jen Johnson manages upstate New York's Greensprings Natural Cemetery Preserve, an eco burial site. Dr. Lori Baker is the forensic anthropologist currently exhuming a mass grave of undocumented immigrants in Falfurrias, Texas for the purpose of identifying and repatriating the remains. Here After interweaves these three vignettes to tie together intimate, quirky, and vulnerable moments in the memorialization process to reflect on the social and ecological implications of our last mark on earth.
Sarah Friedland's documentary films and installations are concerned with personal stories that reveal larger histories and intricacies about place and society. Her works with filmmaking partner Esy Casey have screened widely in the US and abroad and are supported by grants from the Jerome Foundation, the Paul Newman Foundation, The Princess Grace Foundation, and the Ford Foundation-Just Films. She was named one of the "Top 10 Independent Filmmakers to Watch" by the Independent Magazine in 2009. She is a recipient of the 2014 Paul Robeson award from the Newark Museum for her feature documentary The Rink, which aired on PBS (WNET/NJTV) in 2017. She has received residencies and fellowships from the Center of Contemporary Art in Pont- Aven, the LABA House of Study, the MacDowell Colony, and Meerkat Media. Friedland is the Director of the MDOCS Documentary Storyteller's Institute at Skidmore College.
Esy Casey's cinematography can be seen in films including the Emmy nominated BORN TO FLY (DPs Albert Maysles and Kirsten Johnson, Independent Lens), BEFORE YOU KNOW IT (Dir. PJ Raval, America Reframed), and THING WITH NO NAME (Dir. Sarah Friedland, Best Documentary nominee Los Angeles Film Festival). Her directorial debut JEEPNEY premiered on PBS in 2015 and won the jury prize for Best Cinematography at the Los Angeles Asian Pacific Film Festival. She has received awards and fellowships from The Flaherty Seminar, The New York Film Festival, The Princess Grace Foundation USA, The Ford Foundation's JustFilms Initiative, The Center for Asian American Media, The American Association of University Women, PLAYA, The Studios of Key West and The MacDowell Colony.
10:00 pm Reception
Location: Tang rooftop
Day 2 Friday, June 9
10:00 am To Lay This Body Down
Asa Horvitz & Gedney Barclay
Location: Wilson Chapel
A documentary film shot in Poland and a live, participatory singing event shed light on the history and practice of Sacred Harp, a form of American traditional protestant hymnody that is now sung by people of many backgrounds all over the world.
Gedney Barclay and Asa Horvitz's collaboration goes back ten years, beginning with the founding of an experimental performance group at Wesleyan University. Since then they have made a number of large-scale performances together on both coasts of the US as well as individually presented performances, concerts, and exhibitions across the US and Europe. Bridging different forms of fiction and non-fiction, their work weaves firsthand testimony with music, film, and performance to explore the role of ideology, imagination, and fantasy in contemporary life. Their process involves lengthy periods of research, documentary video and film, original music composition, and the development of performance text with documentary subjects through extensive, repeated interviews. Recent projects have included video installation, full-length theater pieces, experimental, site-specific performances, and the upcoming feature-length documentary Howl, which they will be completing while at Storytellers' Institute.
11:30 am Transnational Migration, Globalization, and Ethnographic Film in India
Harjant Gill
Location: Somers Room, Tang Museum
Harjant Gill will discuss the findings of his on-going ethnographic research exploring the intersections of masculinity, migration, and popular culture in northern India followed by the screening of his most recent documentary film Sent Away Boys that looks at the growing phenomenon of transnational migration from northern India among young Indian men, and how the rural landscapes are transformed by the absence.
For award-winning filmmaker and visual anthropologist Harjant Gill, making films is about casting a spotlight on urgent and often overlooked social issues, and making marginalized members of society feel less isolated and more understood. Gill's research and films explore the intersections of gender, sexuality, religion, citizenship, transnationality, and notions of belonging with a particular focus on Indian and diasporic masculinities. Born and raised in Chandigarh, India, Gill studied visual anthropology at San Francisco State University before pursuing his PhD in anthropology at American University. Gill currently lives in Washington DC where he is an assistant professor of anthropology at Towson University.
2:30 pm Sounds of Silence
John Beckman
Location: Somers Room, Tang Museum
The Director of Exhibit Design and Development at the Museum of Science and Industry, Chicago, John Beckman will discuss how sound and space operate in creating museum exhibitions.
John Beckman (Skidmore College BA, '94, theatrical design and art history) joined the Museum of Science and Industry (Chicago) in 2002, where he has conceived and executed several blockbuster exhibitions including Action! An Adventure in Moviemaking (2004), which included the first-ever public display of all 50 Academy Awards® and won an AAM MUSE award for excellence in the use of media and technology, as well as a Themed Entertainment Association (TEA) THEA award. In 2006, John led the creation of the exhibit-event, Leonardo da Vinci: Man, Inventor, Genius, displayed an original Leonardo drawing for the first time in the U.S., ground-breaking and world-premiere interactive software, and scholarly work of the world's three most respected Leonardo experts. Recently, Beckman managed exhibit design and development for the world premiere of temporary exhibition, Robot Revolution (2015) and permanent exhibition, Numbers In Nature: A Mirror Maze (2014), which features a 1,800-square-foot mirror maze.
4:00 pm Water Music NY: Storytelling Through Music
David Alan Miller & Daniel Schlosberg
Location: Zankel Music Center
To honor the bicentennial of the Erie Canal, beginning July 2, 2017, in Albany, NY, the Albany Symphony has designed "Water Music NY." This one-of-a-kind boat trip will feature 32 Albany Symphony musicians traveling along the Canal by barge from Albany to Buffalo, stopping in seven historic communities along the iconic waterway to perform newly commissioned works by emerging composers. This session features Albany Symphony Director David Alan Miller in conversation with composer Daniel Schlosberg about the genesis of the project and the intensive community collaborations it has included. It will also feature excerpts of Schlosberg's piece in live performance, including a contribution by Skidmore student and spoken word artist Bree Hassell.
Mr. Miller has worked with as a guest conductor of America's major orchestras. In addition, he has appeared throughout Europe, Australia and the Far East as guest conductor. A native of Los Angeles, David Alan Miller holds a bachelor's degree from the University of California, Berkeley and a master's degree in orchestral conducting from The Juilliard School. Prior to his appointment in Albany, Mr. Miller was Associate Conductor of the Los Angeles Philharmonic. From 1982 to 1988, he was Music Director of the New York Youth Symphony, earning considerable acclaim for his work with that ensemble. Mr. Miller lives with his wife and three children in Slingerlands, New York.
The music of composer and pianist Daniel Schlosberg has been performed by the Dover Quartet, Nashville Symphony Orchestra, Cabrillo Festival Orchestra, Buffalo Philharmonic, Lorelei Ensemble, and Amphion Quartet at venues
including Carnegie Hall, Royal Albert Hall, Williamstown Theatre Festival, Beijing Modern Music Festival, Detroit Institute of Arts, and (le) poisson rouge. He received a 2014 Charles Ives Scholarship from the American Academy of Arts and Letters and 2014 ASCAP Morton Gould Young Composer Award. Current commissions include works for the Dover Quartet (based on the music of Twin Peaks), Albany Symphony, and Chamber Music Northwest. Daniel is cofounder of the composer-performer ensemble Invisible Anatomy and core member of Cantata Profana. He enjoys baking cookies, and his work has been described as "witty" and "ingenious" by the Wall Street Journal and "richly detailed yet delicate" by the New York Times. Education: BA, Yale College; MM, MMA, Yale School of Music.
7:30 pm In the Shadow of the Moon: The Science, Magic, and Mystery Behind Solar Eclipse Stories
Tony Aveni
Location: Somers Room, Tang Museum
On Aug 21, 2017, America will witness the first coast–to-coast total eclipse of the sun in 99 years. A second eclipse, total in the Adirondacks, will follow seven years later. Aveni's talk recounts the profound effects the sky's most storied phenomenon has had on human history via exploring the meaning behind eclipse myths from ancient Babylon through the Maya of Central America, to the early American Republic.
Anthony F. Aveni, professor emeritus at Colgate University, helped develop the field of archaeoastronomy and is considered one of the founders of Mesoamerican archaeoastronomy, in particular for his research in the astronomical history of the Maya of
ancient Mexico. He is a nationally recognized distinguished teacher, who has involved students in collaborations in Central America and Peru, from research to co-authorship. He is a well-traveled lecturer, speaker, and editor/author of more than two dozen books on ancient astronomy, including Empires of Time, Conversing with the Planets, and The End of Time; The Maya Mystery of 2012, and research publications including in Science magazine, American Scientist, The Sciences and The Journal of Archaeological Research. Aveni has spoken or written on astronomy-related subjects on the Learning Channel, the Discovery Channel, PBS-Nova, BBC, NPR, NBC's Today Show, and in the New York Times, Newsweek, and USA Today.
8:30 pm Night Sky Stories: An Informal Conversation
Tony Aveni and Joe Eakin
Location: Somers Room, Tang Museum
Co-creators of a virtual course they developed together called "Astronomy in Culture", Colgate's Visualization Lab Director Joe Eakin and astronomer/teacher Tony Aveni collaborate in narrating and discussing with the audience, selections from an animated collection of stories used from a wide variety of cultures around the world, related to phenomena visible in late Spring/early Summer skies.
Joe Eakin has been in the planetarium business for over 17 years, starting as a Console Operator at the Sky Theater of the University of North Texas, where he worked on productions, gave shows to school groups, and aided astronomy labs. After graduation,
he became program coordinator for a new planetarium at the University of Texas at Arlington, a Digistar 3 dome where he learned how to produce animations and operate a fulldome immersive theater. Having always dreamed of living in upstate New York with its bitter cold, he joined Colgate as the Senior Visualization Lab Designer and Technician in 2008. Immersed in Colgate's liberal arts setting, where he works closely with faculty and students designing content for many disciplines across campus. He also manages a science outreach program for school aged children bringing in around 2000 kids annually.
9:30 pm The Nighttime Sky Over Saratoga
Joe Eakin
Location: Tang Museum Rooftop
Discussants host a trip to the rooftop of the Tang to witness the real actors and the action in sky stories. Telescopes will be available for viewing.
Day 3 Saturday, June 10
10:00 am Installation Viewing and Gallery Talks with
Betty Yu and Daesha Devón Harris
Location: Case Gallery, Case Campus Center
The Future of Sunset Park: Through the Voices of Immigrant Stories by Betty Yu is an interactive web-based project that features Latino and Chinese immigrant residents and their stories about immigration, gentrification and displacement in the Brooklyn neighborhood of Sunset Park.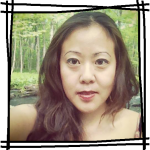 Betty Yu is a Chinese-American NYC based filmmaker, multi-media artist, media educator and social justice activist. Her documentary "Resilience" about her garment worker mother fighting against sweatshopconditions, screened at national and international film festivals including the Margaret Mead Film and Video Festival. Betty was a 2012 Artist in Resident with the Laundromat Project. Yu's interactive multi-media installation, "The Garment Worker" was featured at Tribeca Film Institute's Interactive 2014. She recently co-created the "Monument to Anti-Displacement Organizing" which is part of the Agitprop! show at the Brooklyn Museum. Additionally she is a co-founder of the Chinatown Art Brigade, a cultural collective telling stories of Chinatown tenants fighting gentrification through public projections. Betty is the recipient of the 2016 SOAPBOX Award from the Laundromat Project. She is currently an artist-in-resident at the International Studio and Curatorial Program in New York City. Betty is also an adjunct professor at various colleges teaching new media, art and video production. Betty is a 2016 A Blade of Grass Fellow for Socially Engaged Art for her collaborative project with Chinatown Art Brigade. She holds a B.F.A. from NYU Tisch School of the Arts and a M.F.A. from Hunter College.
I've Got a Home by Daesha Devón Harris highlights the historic and contemporary contributions of people of color while concurrently explores the concept of "Home" and realization of the American Dream. This photographic series invites the viewer to contemplate each of the contributors' unique relationship with, history of and presence in Harris' increasingly gentrified hometown of Saratoga Springs, NY.
Daesha Devón Harris, Saratoga Springs native and documentary photographer and award-winning artist, creates powerful multimedia pieces that speak to social issues in a creative and compelling way.Her photos depict subjects not as victims, instead showing them in a light of determination that illuminates Daesha's relentless optimism. Harris' practice includes individual and collective portraits of African-American and other often-unrecognized communities in Saratoga Springs, and the use of archival and historical research and images. Her MFA show, and yet must be…my Promise Land, and 2011 show at the National Museum of Dance, I've Got a Home: Inside a Community of Color, draw attention to African-Americans affected by gentrification. Harris' earliest mentor was her Great Uncle Joseph Daniels, a self taught artist and accomplished painter from whom she received painting instruction as a young child. She holds a BFA in Studio Art from the College of Saint Rose where she studied under the late Karene Faul – iconic artist and educator. Daesha earned her MFA in Visual Art from The University at Buffalo and has won several NYS artist grants. Her work has been featured in numerous exhibitions across New York State as well in Philadelphia, PA; Louisville, CO; and beyond. She plays an active role in her community as a youth advocate and cultural history preservationist.
12:00 pm The Appalachian Mountain Patrol
Laura Grace Chipley
Location: Gannett Auditorium, Palamountain Hall
The Appalachian Mountaintop Patrol trains grassroots environmental activists, former coal industry workers and local community members in the coalfield regions of West Virginia to use video cameras, drones and environmental sensors to document and take action against the ongoing environmental contamination and public health crisis caused by Mountaintop Removal coal mining.
Laura Grace Chipley is a Queens based artist who uses video, site-specific interventions and emerging technologies to explore potentials for human collaboration and to document the social and environmental
impacts of energy extraction. Her recent projects include 'The Newtown Creek Armada' – an interactive boat pond created in a New York Superfund site and The Appalachian Mountaintop Patrol, a collaborative, environmental watchdog and multimedia education initiative that works with West Virginia environmental activists to use documentary filmmaking, drones, environmental sensors and surveillance technology to chronicle the effects of Mountaintop Removal coal mining. Laura's work has been exhibited internationally and her projects have been supported by organizations such as Art Matters, the Hudson River Foundation, the Brooklyn Arts Council and A Blade of Grass. Laura is an Assistant Professor of Media & Communications at SUNY Old Westbury College.
2:45 pm Mapping Displacement and Resistance Through Oral History
Anti Eviction Mapping Project members Jin Zhu and Alexandra Lacey
Location: Gannett Auditorium, Palamountain Hall
Filmmakers from the Anti-Eviction Mapping Project discuss the project's use of multimedia storytelling, mapping and oral history to amplify underrepresented voices in the San Francisco Bay Area.
Alexandra Lacey has worked for fifteen years as an independent filmmaker in San Francisco. Her work includes both narrative and documentary films which explore the lives of creative women, the legacy of colonialism, and the complicated relationships between memory and identity and psychology and place.
Jin Zhu is a video artist and photographer whose work seeks to connect colonial histories with modern day displacement through a prcess combining archival research, site visits, ephemera collection and re-enactment. Her work has
been shown at the BAMPFA, Contemporary Jewish Museum, Southern Exposure Gallery, San Francisco Arts Commission Galleries and Cantor Center for Visual Arts.
4:00 pm Documentary as Dissent: Activism through documentary
Location: Gannett Auditorium, Palamountain Hall
A panel conversation about activism and documentary with Betty Yu, Laura Grace Chipley, the Anti Evicition Mapping Project.
8:00 pm Visualizing Disappearance: The Prison in Twelve Landscapes
Brett Story
Location: Gannett Auditorium, Palamountain Hall
More people are imprisoned in the United States at this moment than in any other time or place in history, yet the prison itself has never felt further away or more out of sight. The Prison in Twelve Landscapes is a film about the prison in which we never see a penitentiary. Instead, the film unfolds as a cinematic journey through a series of landscapes across the USA where prisons do work and affect lives, from a California mountainside where female prisoners fight raging wildfires, to a Bronx warehouse full of goods destined for the state correctional system, to an Appalachian coal town betting its future on the promise of prison jobs. This ground breaking film is a presentation on geography, research creation and the politics of seeing.
Brett Story is a geographer and non-fiction filmmaker based out of New York. Brett holds a PhD in Human Geography from the University of Toronto and is currently a SSHRC postdoctoral research fellow at
the City University of New York Graduate Center. Her most recent feature documentary, The Prison in Twelve Landscapes, was a nominee for Best Canadian Documentary at the Canadian Screen Awards and is currently touring festivals internationally. Her book, The Prison out of Place, is forthcoming from University of California Press. Brett is a 2016-2017 Sundance Documentary Institute Art of Nonfiction Fellow.
Day 4 Sunday, June 11
10:00 am Teaching Space and Place: Pedagogy and Documentary
Location: Murray Aikins Dining Hall, 2nd Floor
A round table discussion about teaching and documentary with with Jordana Dym, Sarah Friedland, Camilla Fojas, Jason Fox, Jonna Mckone and moderated by Cecilia Aldarando
Cecilia Aldarando is an award-winning documentary director-producer whose work has been supported by the Sundance Institute, Firelight Media, Field of Vision, IFP, the Jerome Foundation, and many others. Her feature documentary Memories of a Penitent Heart had its World Premiere at the 2016 Tribeca Film Festival and will be broadcast on POV in 2017. She is a 2017 Women at Sundance Fellow and was named by Filmmaker Magazine as one of 2015's '25 New Faces of Independent Film.' She is an Assistant Professor at Skidmore College in the English Department and the Media and Film Studies Program.
Jordana Dym is the inaugural director of the John B. Moore Documentary Studies Collaborative and professor of history. Her research and teaching interests include Latin America, the history of cartography, and public history. She joined the Skidmore faculty in 2000 after undergraduate studies in history and a master's in Russian studies at Stanford University (1989), a stint in the Foreign Service, and graduate studies at New York University (PhD, 2000). Student research collaborations include research for an exhibit of declarations of independence in Mexico's national archives (2010), cataloguing and scanning a private collection of Guatemalan historical documents to preserve the materials for scholars (2012–2013), and a Saratoga Springs map exhibit in partnership with the Saratoga Springs History Museum, Public Library, and City Historian's Office (2015). In addition to spearheading a public history initiative in the History Department, she shepherded the creation of the Latin American Studies Minor program (2002, director 2007–2011), and helped organize the 2004 Skidmore-Saratoga Springs Film Forum Haiti film festival, which hosted leading writers and filmmakers on campus. She has enjoyed sharing her love of travel with students on travel programs and collaborative research in France, Mexico, Guatemala, Puerto Rico, and Cuba.
Sarah Friedland see above
Camilia Fojas has a joint Mellon Foundation appointment with the American Studies Program and the Department of Media Studies at the University of Virginia. Her research explores transnational Asian, Pacific, and Latinx American cultural and media studies in a comparative imperial context. She is the author of five books: Cosmopolitanism in the Americas (Purdue UP, 2005), Border Bandits: Hollywood on the Southern Frontier (University of Texas Press, 2008), Islands of Empire: Pop Culture and U.S. Power (University of Texas Press, 2014), Zombies, Migrants, and Queers: Race and Crisis Capitalism in Pop Culture (University of Illinois Press, 2017) and Migrant Labor and Border Securities in Pop Culture (Routledge, 2017). She is currently working on a new project on surveillance and borders tentatively titled Border Securities.
Jason Fox is a filmmaker and professor based in New York City. He has taught at Vassar College, Cooper Union and at CUNY Hunter College. As well, he has worked as a documentary programmer in conjunction with The American Museum of Natural History, The Flaherty Seminar, and Maysles Cinema, among others. He also serves on the Board of Organization for Visual Progression, an organization that partners with social justice organizations to provide training on using visual media in their advocacy efforts. He holds an MA from New York University and and MFA from CUNY Hunter College.
Jonna McKone is an award-winning artist, documentarian, journalist and researcher. Her films and sound installations have screened in museums, galleries and film festivals around the east coast, most recently Power Plant Gallery in Durham, NC. With a sense of place and historical research, her art practice examines history, labor, memory and gesture approached through ethnography, archival research, walking, installation and nonfiction filmmaking. This fall she will be based in New York City as a Duke University Lewis Hines fellow. She was a Skidmore Storytellers' Institute Fellow in 2015, received a Equal Voice Journalism Fellowship in 2014 and in 2012 received a grant from the Institute of Museum and Library Services to explore neighborhood histories in DC. Her video and audio works have been broadcast or shown on many public radio programs, podcasts and publications.
12:00 pm Undergraduate Student Documentary Festival
Location: Gannett Auditorium, Palamountain Hall
This past academic year, MDOCS offered a new, two-semester course on Festival Programming. During the Fall, the class focused on the history of documentary media exhibition and began to plan what a student documentary festival at Skidmore might look like. They debated and defined the parameters of the festival and crafted a call for entries. The Spring class (comprised mostly of different students) learned how to evaluate work and rigorously discussed both submissions as well as works that they solicited. The following program is the fruits of their labor: a ten-film program of work created by undergraduates from around the world.
Programmers
Maryam Dewitt, Sophia Eberhardt, Emma Fritschel, Esther Hibbs, Izzy Howard, Annie Raksasa
Adam Simon, and Nora Weber.
Course Instructor
Program
Harvest in New Life
Dir. Antonis Kitsikis (UCA Farnham, Canada, 2016, 11 min.)
The Way of the Person (Musa)
Dir. Ani Schroeter (Bard College, US, 2017, 13 min.)
2016 Election Night
Dir. James Condon (University of Pittsburgh, US, 2016, 5 min)
The Living of the Pigeons
Dir. Baha Abu Shanab (Dar al-Kalima University College of Arts and Culture, Palestine, 2015, 16 min.)
Bert's: Passing it Down
Dirs. Adrianna Sage O'Brien, Alex Nowlin, and Olivia Herbert (University of Michigan, US, 2016, 10 min.)
Lobstermen of Maine
Dir. Jessica Lyon (Colby College, US, 2016, 4 min.)
Gallero
Dir. Andreas Hadjipateras (New York University, US, 2015, 13 min.)
Prairie Burns
Dir. Elizabeth Wadium (University of Wisconsin-Madison, US, 2015, 5 min.)
The Waiting Room
Dir. Destefano DeLuise (Bard College, US, 2017, 11 min.)
Masha
Dir. Grace Ackles (University of California-Santa Cruz, US, 2016, 6 min.)